At Conclave: American Indian Affairs Program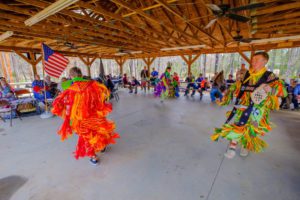 Join the American Indian Affairs program for a weekend full of dancing, crafting, and competitions! The events will begin on Friday night, with the first competition, the team powwow exhibition competition. Each team will give a demonstration of powwow intertribals and specials. Not only that, but all dancers will have an opportunity to dance on Friday night, as we have our first dance for the weekend.
Saturday will begin with trainings in everything AIA, from beading to dance overviews. No matter what your interest, there will be a training for you. After the trainings are completed, the individual dance competition will begin. Dancers from all over the section will compete in their respective styles to show off their skills.
The program will end with one more dance on Saturday evening. The winners of the team powwow exhibition and individual dance competitions will be recognized at this time.
Anyone with an interest in singing, dancing, Native American crafts, or anything American Indian Affairs would have a great time in the AIA program at Conclave 2021.